Don't study the end result. Study the first step. ~ Josh Shipp
One of the most challenging first steps in your pathway of professional development isn't figuring out where you need to go, but figuring out where you are.
Let me explain.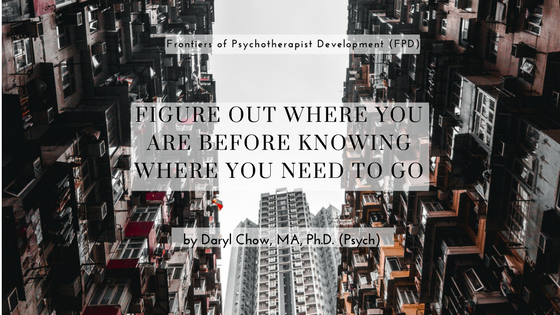 Photo by Alexandr Bormotin, Hong Kong
If you are trying to find the direction on how to get to a specific place, what do you first need to figure out? Your current location.
The team at International Center for Excellence (ICCE) says you need to first KNOW YOUR BASELINE.
In other words, how effective are you?
Can the outcome of a client tell you how effective you are? The answer is no. This is because even the best therapists are not effective with everyone. (The base rates for deterioration during treatment is about 8-10%. Which means, for every 10 clients that you see, one of them will get worse in your care. The question is, do you know who? And then what do you do?). Conversely, even an average therapist can have good outcomes with one client on occasion.
This is where the power of small data steps in. As opposed to big data- small, localised, long data that is specific to you has the power to reliably inform you about your work. You'd need at least 30 closed cases, and importantly, systematically collect routine outcomes at every session, BEFORE you judge how effective you are. (Now you see why one of the biggest stumbling blocks to real growth is figuring out your baseline.)
If you are below average, you have a lot of headroom to grow.
If you are above average, you need to figure out what you are doing well and continue to replicate and maintain that.
If you are an average performer, the hardest work resides for you. Why? Good enough is alluring; competence shields you from the heartbreak in the pursuit of excellence.
Here's what interviewer from Vox Ezra Klein commented to Atul Gawande in an interview:
"We have this idea that competence is not making mistakes and getting everything right. As opposed to: Competence is knowing you will make mistakes and setting up a context that will help reduce the possibility of error but also help deal with the aftermath of error."
Knowing your baseline performance is like someone telling you where you are at when you are lost.
So how will you start your new year as a professional? Stay tuned. We will kick off 2018 with some exciting a new online training course and a book to reignite your practice, and much more from the Frontiers blog.
Salute to you who are in the pursuit of excellence. Peace be with you in the new year.
Best,
Daryl