I believe that a good life is a deep life; it's prerequisite is to be a deep learner.

My job is to help practitioners become Deep Learners.
This week, I want to take you on an insider's journey of the Deep Learner, a specially designed web-based psychotherapist's field guide to extend your mind and harness wisdom into clinical practice.

Basically, it's all about the stuff we don't get taught to do. Sprinkled with practical tips, it's all about doing alchemy that transforms content into information, information into understanding, and understanding into wisdom in the therapy room.

Deep Learner is based on the 4 principles of Create, Capture, Retrieve, Synthesise. Each of these components build upon the previous, and the course takes you on a mobiüs strip along these 4 sections, and all the time connecting the dots towards translating learnings into clinical practice.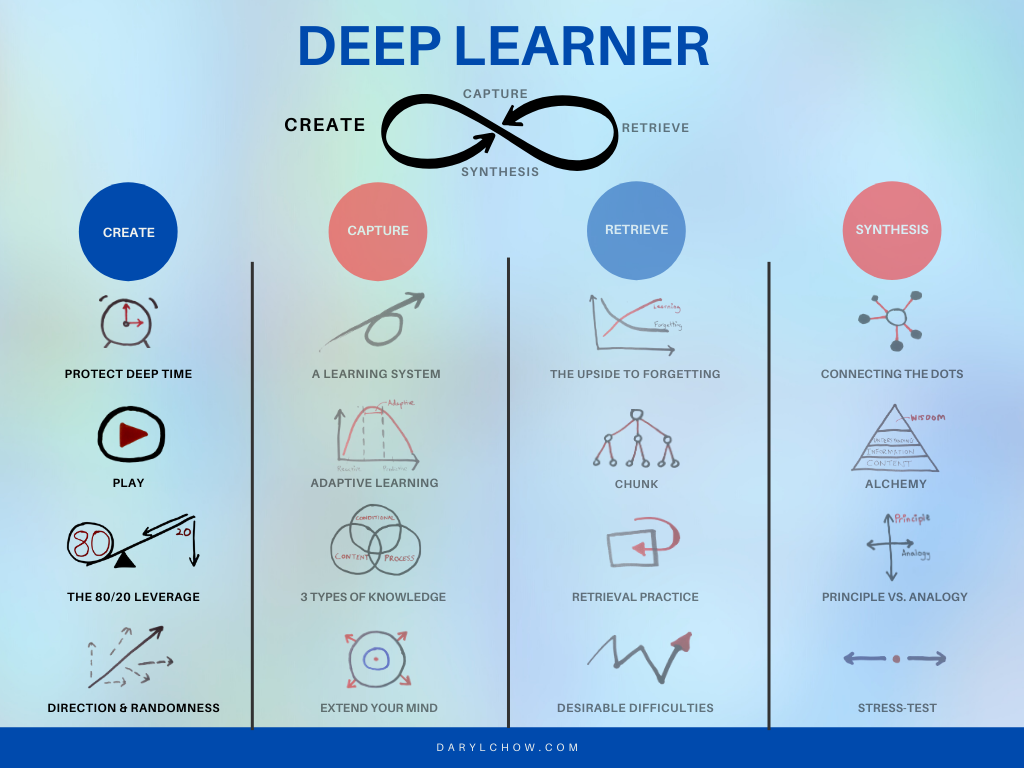 If you want to jump right in and look at the entire curriculum and all of the available sneak preview, click here.

For an overview,

i. An Introduction to Two Worlds: Performing vs. Learning

ii. Format of Deep Learner

iii. What is Deep Learning? (and what it's not).
Create and Protect Play
Previously, we looked at the value of protect time and space for deep learning.

In today's blog, I take you under the hood of Module 1.4. Create Play. (click to watch the embedded video).
Here, we look at why your play history affords you a glimpse into how we can re-kindle this apparently purposeless (done for its own sake) activity of play.

In fact, leading researcher of play, Stuart Brown says that "A lack of play should be treated like malnutrition: it's a health risk to your body and mind."

This particular module seemed to have generated loads of thought provoking reflections among practitioners, leaders and deep learners in this workshop. (In Tip 1c, we go in-depth into practical ways to protect play in our ceaselessly busy adult life).
JOIN US!

Be part of the community of Deep Learners from all over the world on this 3-month journey with in-depth content. It's a one-off payment with life-time access (yep, not one of those subscription-based type).

The next batch starts 6th of July, 2020 (MONDAY).

Closing Date: 3rd of July, 2020 (Friday).

Finally, if you are on the Frontiers list, check your inbox for an ultra-exclusive 25% discount code.